The individual members of the Matrix Percussion Trio (Scot Corey, Todd London, and Joe Smyth) bring extensive and diverse educational and performance experiences to the group. These experiences give the trio a unique set of performance skills and artistic sensibilities.

Scot Corey is a Nashville nomad. It is not uncommon for him to teach university students on a Monday; rehearse and perform with the Nashville Symphony for the remainder of the week; rehearse with a songwriter on a Tuesday or Thursday night; squeeze in a praise and worship band rehearsal on Wednesday night; and play a steel drum gig on the weekend.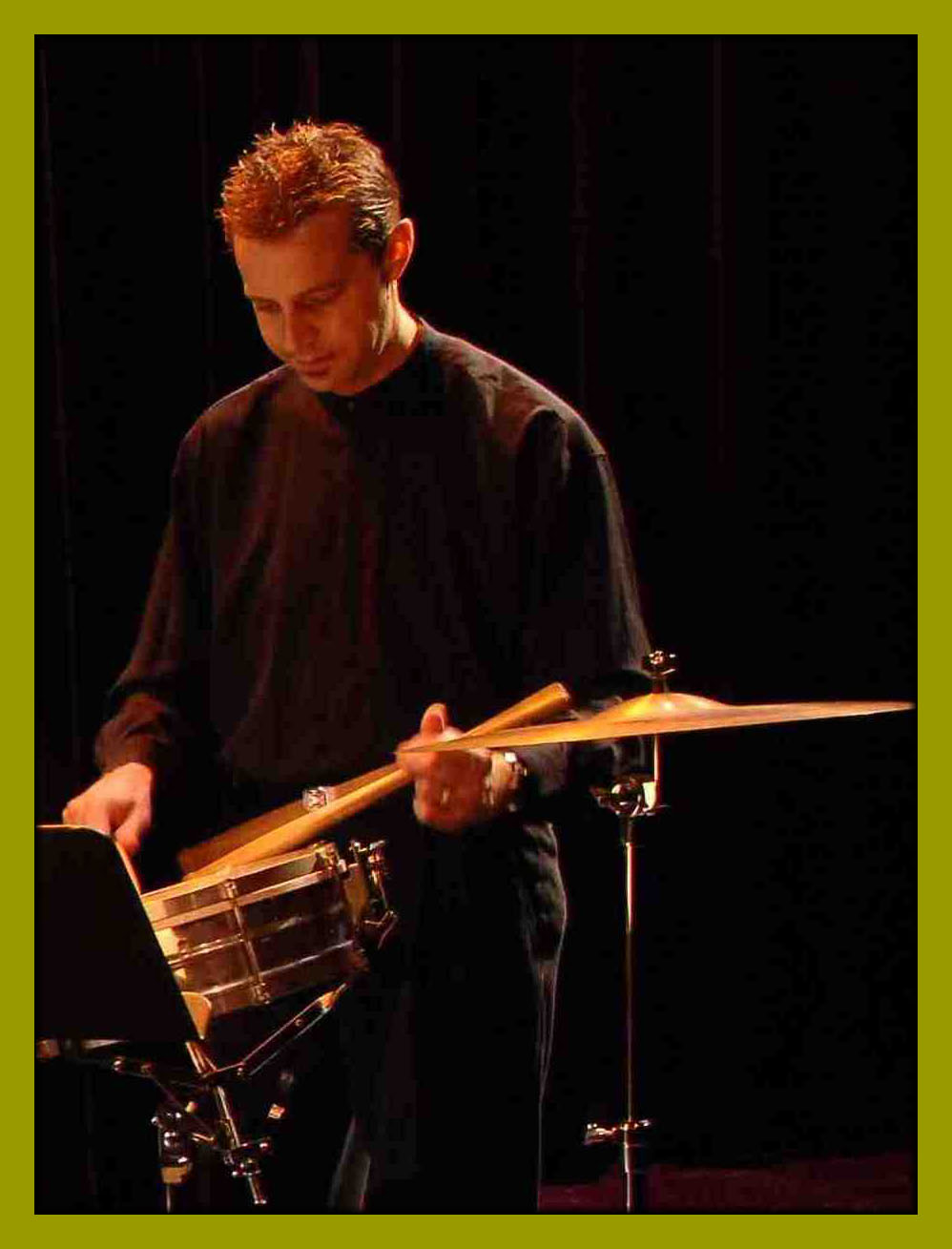 For the past two decades, Scot Corey has been active throughout Tennessee as a drumset artist, as well as a symphonic and ethnic percussionist and steel drum artist. He began his professional career in middle Tennessee at age 17, playing drumset and percussion for the musical theater. Since that time, he has performed over 25 different shows, most recently the Nashville performances of the national tour of The Full Monty.
Scot also performs regularly as an 'extra' percussionist with the Nashville Symphony including their Fourth of July nationally-televised live concert on the GAC network, their 2000 Carnegie Hall debut and East Coast tour, and their many educational performances. He has also performed recently at the Bonnaroo Music Festival with the Nashville Chamber Orchestra and Trey Anastasio of Phish. Scot also appears with children's artist Roger Day, Pan In Harmony Steel Drum Band, the Brazilian group Som Brasileiro, the experimental groove-prov quartet Egyptian Love Cookie and in many other freelance settings.
One of Scot's most rewarding musical experiences is playing drumset in the Praise and Worship Band at Green Hill Church in Mt. Juliet, TN. Under the direction of Johnathan Crumpton (V.P. of Print Media, Brentwood-Benson Music), the Green Hill Praise and Worship Band and choir are on the cutting-edge with the latest Contemporary Christian praise and worship songs, choir specials and seasonal thematic programs.
Scot may be heard on drum set, percussion, and steel drums on a number of recordings including and the experimental rock of Poor Skeletons and the Brazilian sounds of Som Brasileiro.
He has previously appeared with Jamey Abersold, Louie Bellson, Steve Chavez, Len 'Boogsie' Sharpe, Jerry and Marlene Tachoir, the Bryan Symphony Orchestra, the University of Illinois' Camerata Barocca, and the Trevecca Symphony Orchestra.
Scot holds the Master of Arts in Education degree from Tennessee Tech University where he studied with Joseph Rasmussen and held a teaching assistantship. His Bachelor of Music degree in percussion performance is from the University of Illinois where he studied with Tom Siwe and Fred Fairchild. He received the Percussion Division Award in 1988 and graduated with high honors.
Scot is presently Adjunct Instructor of Percussion at Trevecca Nazarene University in Nashville, where he started the school's first percussion ensemble. He has been on the hosting committee for the Percussive Arts Society's International Convention in 1996, 2001, and 2004, and has served as an adjudicator and clinician in the Nashville area. Scot is an educational endorser with the Pro-Mark corporation.

Todd London is a percussionist and composer with a wide range of skills and experiences.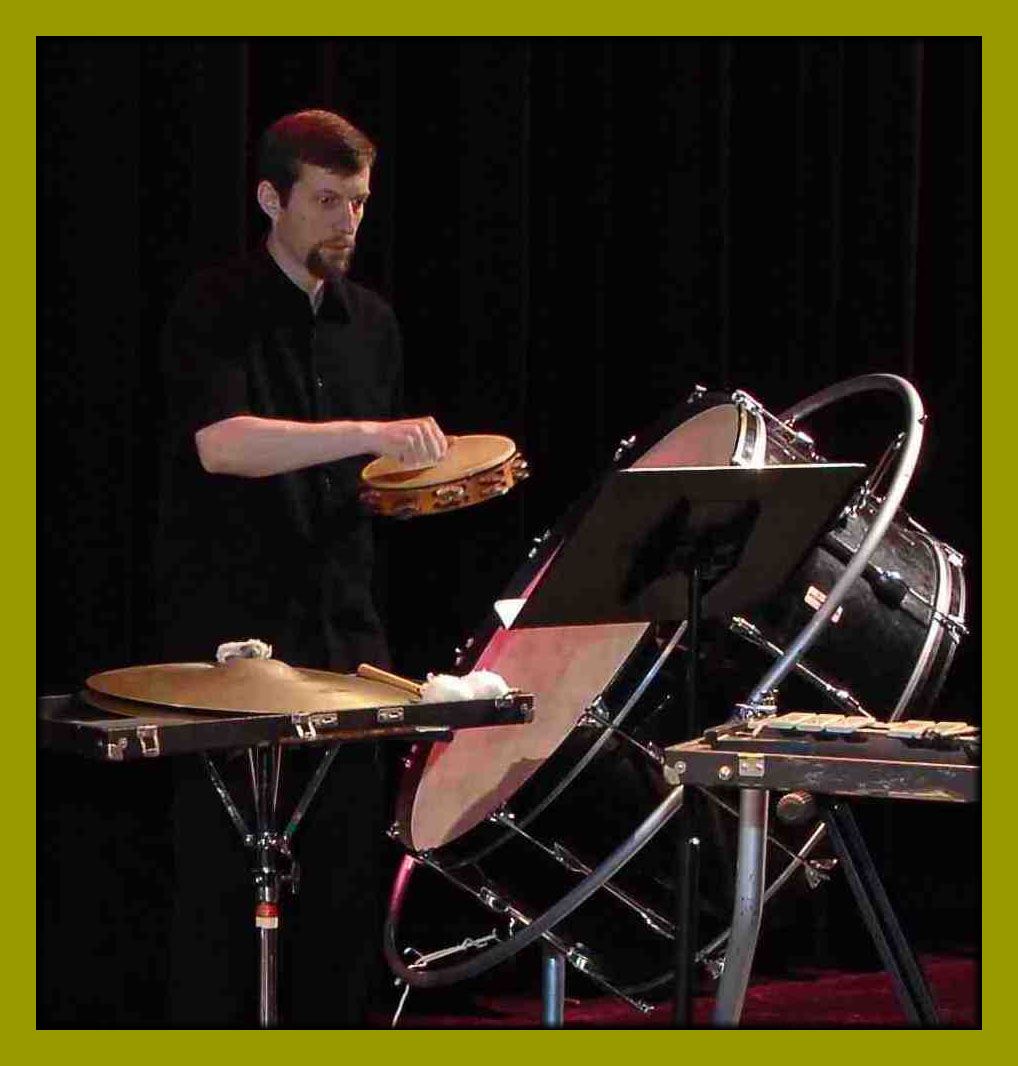 Most recently, Todd has been performing with the Nashville Praise Symphony, Belmont Faculty Jazz Ensemble, Suzy Bogguss, Orchestra Nashville, Deep Grooves Steel Drum Band, Coral Bay Steel Drum Band, and Egyptian Love Cookie. Through his association with the Nashville Chamber Orchestra and Orchestra Nashville, Todd has performed at the Schermerhorn Symphony Center with artists such as Donna Summer and Wynonna Judd, and at both the Bonnaroo Music Festival and the historic Ryman Auditorium with Trey Anastasio. In 2005, he performed with the Nashville Jazz Workshop's George Shearing Ensemble at the IAJE Convention in Long Beach, California. Todd has also performed as a featured vibist and percussionist in numerous ensembles from the Nashville Jazz Workshop such as the Cal Tjader Ensemble, Cuban Music Ensemble, and Brazilian Music Ensemble. In the past several years, he has been an active teacher and performer in the area of contemporary worship music traveling to numerous places throughout the United States and abroad.
He may be heard on the Capitol, Anhedonia, and Human Arts record labels.
Todd has previously appeared with the Belmont Camerata Musicale, Caribbean Connection, Charly McClain, Chester Thompson, Dennis DeYoung, Nashville Swing Machine, Nashville Wind Ensemble, and the Tropical Breeze Steel Drum Band. He has also appeared on Nashville Public Television's Recital Hall as a featured performer.
Todd's compositions can be heard daily on shows such as Guiding Light and As The World Turns. He has also composed the music for two children's ballets commissioned by the Nashville Ballet, The Singing Tortoise and The Emperor and The Nightingale. Todd has also composed many pieces for marching percussion and steel band. He has authored several drumset articles for Mel Bay's Percussion Sessions.
He has received recognition from the National Academy of Television Arts & Sciences for contributions to the Guiding Light's Emmy Award for "Outstanding Achievement in Music Direction and Composition for a Drama Series."
Todd holds the Masters of Music degree from the University of Georgia at Athens with a major in Percussion Performance, where he studied with Thomas McCutchen and Arvin Scott. His Bachelor of Music degree is from Belmont University in Nashville with a major in Commercial Music and Performance, where he studied with Sam Bacco and Dale Armstrong.
Todd is currently an adjunct faculty member at Belmont University in Nashville, where he teaches applied percussion, ethnic percussion, commercial percussion seminars, and directs the Belmont World Percussion Ensemble. He has been on the hosting committees for the Percussive Arts Society's Tennessee Day of Percussion in 1999 and 2000, and the International Convention in 2001 and 2004. He has served as an adjudicator for the Nashville Symphony Young Artist Concerto Competition, the Georgia High School All-State Band and Orchestra auditions and South Carolina's State Solo Festival.

Joe Smyth is an accomplished educator, performer, and recording artist.
For the past 29 years, he has been a founding and continuing member of the group Sawyer Brown, recording 23 albums on Capitol and Curb Records. Four of these are certified 'Gold' with total sales in excess of 6 million copies. Traveling 12 months a year with Sawyer Brown, Joe has performed almost 4000 concerts throughout the 50 states, Canada, Germany, Japan, South Korea, Hong Kong, and the PDR of China.
Other recent recordings include an ongoing series of soundtracks for Scholastic Books, and Grammy Award winner Barbara Bailey Hutchenson's 2006 "Breath by Breath."
Joe has also performed with the Portland (ME) Symphony, the Maine Summer Opera Orchestra, the Brookline (MA) Symphony, the Florida Philharmonic, the Miami Pops Orchestra, and the Nashville Symphony.
He has performed with Richard Kiley in Sunrise Musical Theater's revival of Man of La Mancha, with Milton Berle, and with many other entertainers. In the South Florida area, he was also a member of the PACE Percussion Quartet, and solo percussionist and composer for the Mary Luft Ensemble.
Joe has performed at the Brunswick International Summer Music Festival with the Aeolian Chamber Players, in the Northern New England premiere of George Crumb's Ancient Voices of Children, and gave the world premiere of Daniel Adams' Three Movements for Marimba.
With the group Sawyer Brown, Joe's awards include six consecutive Nashville Network/Music City News "Group of the Year" Awards, the Country Music Association Horizon Award, the Academy of Country Music "Group of the Year" Award, three Country Music Television "Video Group of the Year" Awards, and American Music Award and Grammy Award nominations.
Joe holds the Master of Music degree in Applied Percussion and Music Composition, summa cum laude, from the University of Miami, where he studied with Fred Wickstrom and taught as a percussion graduate assistant. His Bachelor of Music degree in Music Composition is from the Berklee College of Music, where his principal teachers were Dean Anderson, Ed Saindon, and Alan Dawson.
Joe is currently on the faculty of Brentwood Academy (Nashville, Tennessee), where he teaches percussion, drumset, and conducts percussion ensembles. He is founder and director of "The Preemptors" Junior Fife and Drum Corps, dedicated to the performance of the military music of the American Revolution. Joe is a Pearl Drum artist, and endorses Zildjian cymbals, ProMark drumsticks, Evans drumheads, and RhythmTech products.